The Berlinale as guest in the Studentendorf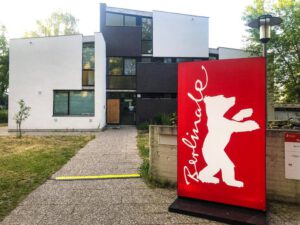 The newly founded fresh air cinema Schlachtensee will show Berlinale contributions every evening from June 12th to 20th, 2021 on the village square (remaining tickets at Kinoheld Tickets).
When evening and darkness falls, the films begin on a large screen next to the town hall, in the heart of the village. Chairs, corona-conformed on a gap, extend to community building 14. The audience, equipped with blanket and wine glass, is delighted about such an event after the long pandemic. Even a three-hour film like Dominik Graf's Kästner adaptation "Fabian" is watched attentively into the deep night, nobody leaves his seat before the end.
These summer film evenings are the first great fruit of the collaboration with the Kammerspiele Kleinmachnow cultural cooperative, the new operators of the clubhouse14. We are very much looking forward to the future together!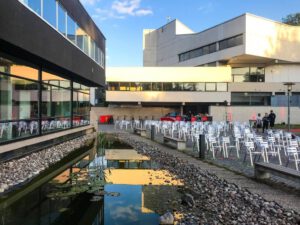 Back to Magazine Site