Dear friends of modernity, dear inhabitants,
we cordially invite you to take a tour of the Eurpean cultural monument Studentendorf Schlachtensee, on saturday, 11th, and on sunday, 12th, at 2 p.m., at the Dorfplatz, Wasgenstraße 75. The guided tours, as well as an interesting exhibtion at the Künstlerhaus 19,  will take place on this year´s Open Monument Day with the focus on "sinnlich & sinnvoll".
In no other Berlin housing estate have the architectural principles of the 20th century and modernity been implemented as sensually as sensibly as in the Studentendorf Schlachtensee. From the organic art of urban architecture and the flowing spaces of Bauhaus director Mies van der Rohe, from the enlightenment garden to the urban landscape, all the great ideas are represented in the Studentendorf by the architects Fehling, Gogel, Pfankuch. In the meantime, large parts of the European cultural monument of the modernity and European history of democracy, have been sustainably renewed and many hundreds of people from almost hundred countries are living in the Studentendorf again.
The Studentendorf is still a construction site, so you can take a look behind the scenes during the two-hour guided tour. The recently completed renovation of the experimental communal houses 24/25 and 26/27 from the 1970s shows, how sustainbly and carefully even younger buldings of Berlin Modernism can be renewed.
Since this year´s Monument Day takes place under strict hygiene requirements, registration is necessary under bettina.widner@studentendorf.berlin. All participants need a mouth-and-nose-protection and the usual distant rules apply.
Klub H14 is unfortunately not available this year, due to the Corona pandemic.
Sincerely yours
Andreas Barz
Bettina Widner
The photos show the sensual, expressive play of colors and materials in the staircases of house 8 (left) and townhall H11 (right).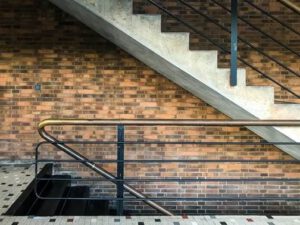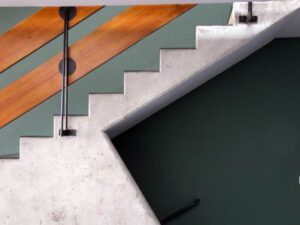 Back to Magazine Site